Club History
Art Ingles built the first Go Kart in California in August 1956 and racing
commenced in Sydney on 24 July 1960 at Castlereagh air strip.
The first Purpose built tar go kart track opened at Caringbah in August 1960. Lithgow City Go Kart track was then opened for racing in February 1963 Lithgow Go Kart Club conducted the Australian Sprint Kart Championship in Easter of 1965. In the 1970's karting went into a recession and the Lithgow Go Kart Club ceased promotion of race meetings. Racing returned to Lithgow in the late 70's, with race meeting promoted by Western District's Kart Club. In February 1981 a meeting was called and new club is formulated and named as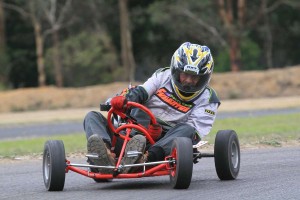 Combined District's Kart Club (CDKC).
CDKC Racing commences under a lease arrangement with the owner of the property Lithgow Kart Club and Clyde Marshall.
The founding President, Col Becker was instrumental to the purchase of the property from Clyde Marshall and in 1987 CDKC became the proud owners. In 1992 the track was further developed into its current format and improvements to the clubhouse and grounds were made.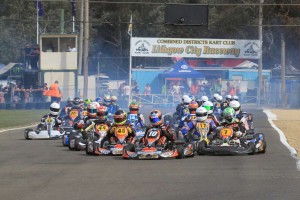 The club was host to the 2005 NSW State Kart Championship. With this event in mind the committee, made. a great deal of improvements including the up grade of the club electrical including the pit area and improvements to the toilets and showers a new weigh shed, technical area and to the club pit area including the tarring of all the access roads.
In 2018 a full resurface of the 751 metre race circuit and outgrid was completed. The resurface was funded with Club resources and a loan from the Track Development Fund.
Several National and State Championships along with CIK and Pro Tours events have been conducted at Lithgow City Raceway since 1963.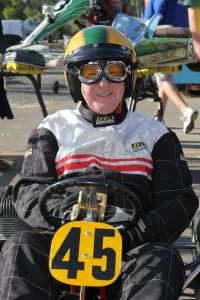 CDKC over the years have been innovators in karting promotions including one of the driving forces in the promotion of the Premier State Cup now in recess but to be replaced by the State Cup . Additionally the introduction of the Junior Development Camps in NSW In conjunction with Karting NSW and the AKA. CDKC is also the market leader in promoting females to the sport and hosts the Ladies Nationals on an annual basis. CDKC also is proud to support the National Breast Cancer Foundation and has raised over $200,000 in funds to support this great cause.
CDKC is regarded as a "family oriented club" that has also generated many champion's in motor sport including Champions James Courtney and Ryan Briscoe.
1981 Formation of Combined Districts Kart Club
1987 Purchase of Lithgow City Raceway
1987 Purchase and installation of the club house
1992 Track extension and re surface
2018 Resurface track and replace curbs
2019 Install Race America Safety Light System
2021 Commence construction of new race control tower