Track Facts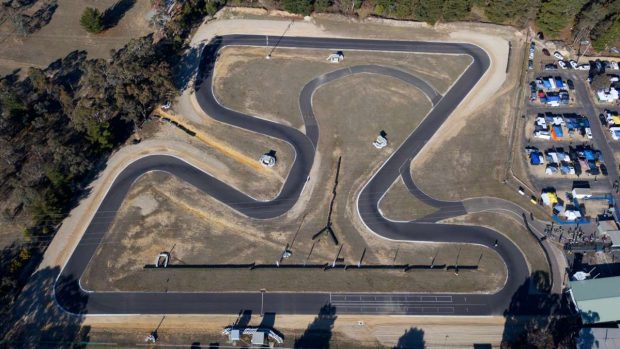 Statistics
Track length: 751 metres
Track width: 8 metres
Timing strips: 3 x magnetic timing strips, located start main straight, end of main straight and start of back straight.
Track Capacity: 32 Karts
Elevation: 985 metres
Pit Area: 11500 m2 with 260 3 x 4.5 metre gravel pit spaces with sealed roadways
Out-grid: 420 m2 undercover
In-grid: 170 m2
Pit numbered 300 space template Pit map, fire extinguisher locations, grid locations.
Track license Lithgow City Raceway 2022
Facilities
Covered Out-grid
Clubhouse with Canteen and fireplace
Toilets and Showers
Camping welcome
Some power available in the pits and camp area
Gearing Guide
Minirok Novice/Rookie 10:80
Junior Light Restricted KA100 10:72
Senior Performance Light KA100 10:78
TAG R Light Rotax 12:83, X30 10:81
TAG Light, Rotax 12:81, X30 10:76, PRD Galaxy 10:76
Lap records
The following lap records are current up to April 2021, under the Karting NSW rules. The records will be updated periodically. To be listed as a record lap time, the time must be set at a race meeting during timed qualifying or racing. If you believe you have set a record not listed here, please contact [email protected] with the details of the lap and a link to the timing results.
Click table to enlarge.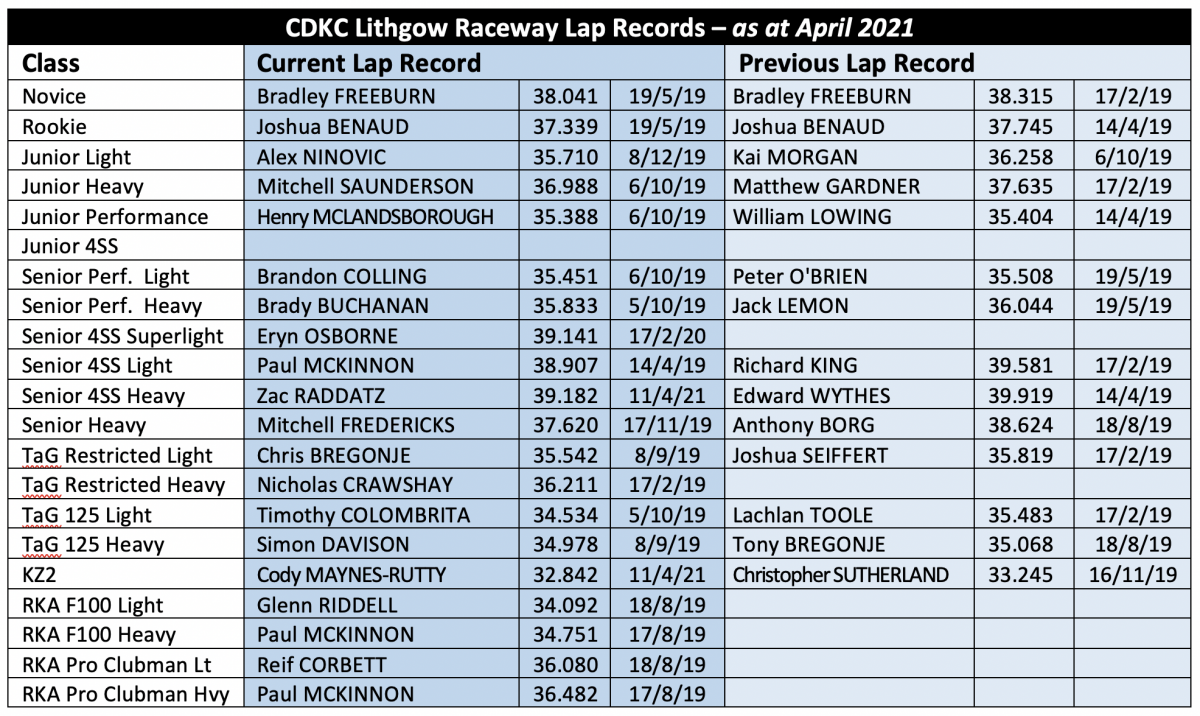 Track History
The original Lithgow track was built by Lithgow Kart Club in 1962. The circuit was purchased by Combined Districts Kart Club in 1986 and the track extended to its current layout in 1992. The 'cut through' seen in the aerial photos formed the original back half of the track.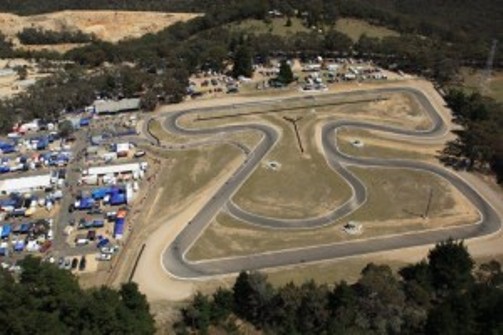 Track Resurfacing
Our track was fully re surfaced in 2017
Click images below to enlarge