The Ladies Event 2016
Reported by: Russell Grimson
The annual ladies only race meeting is over for 2016 . Combined District kart club along with sponsor Zig Zag motel conducted the 10th running of the event in fine warm
weather over the 23 and 24 of January 2016. The meeting got underway with photo session and then followed by outstanding rendition of our national anthem sung by Emily Moore the daughter of former National class Champion driver Linda Moore.
Although numbers were down from previous years the entrants were from all over
Australia from north Queensland to Hobart.
Ladies competed in 10 classes for the chance at winning the "Pink Plate" We saw the biggest fields in KA4 Junior Light and Heavy. The racing in these classes in particular was fair and intense with outstanding performances from Sharnay Seal and Elise Raddatz with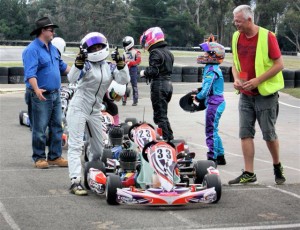 Sharnay taking out the heavy division and Elise the light division.  In the senior division it was great to see that CDKC local Courtney Becker dominated taking home the Pink plate in KA 3 Light
In addition Sharnay took out the Nicole Franks memorial due to here outstanding
consistent performance over the weekend. This award is in memory of a female racer who sadly lost her life at an event some years ago.
On the Saturday night Maddison Hill was crowned the 2016 Miss Karting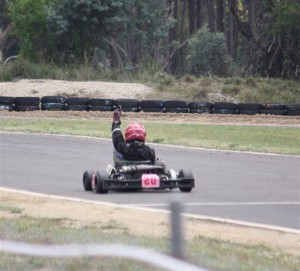 Charity Princess. Maddison raised over $8,000 for the National Breast Cancer Research foundation.
The club would like to say a special thank you to Linda Moore former racers for her wonderful speech about her experience with Breast Cancer. Also to Paul Giuntini and Craig Harradine for doing a fantastic job at the charity auction where a further $2,000 was raised for this great cause.
The club will be reviewing the format for the future and will be looking to confirm the date as soon as possible so that everyone can start planning.
Class winners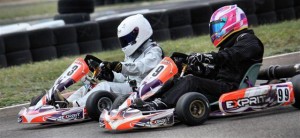 KA4 Junior Heavy Sharnay Seal
KA4 Junior light Elise Raddatz
KA4 Senior Light Katie Everingham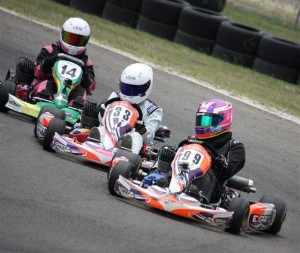 TAG 125 Light Lauren Shand
KA3 Senior Light Coutney Becker
Cadet 12 Paige Raddatz
Cadet 9 Ruby Gibson
Junior Performance Taylah Agius
TAG 125r Light Ashley Chebaia
TAG 125r Heavy Reanna Tate
The Nicole Franks Trophy Sharnay Seal.