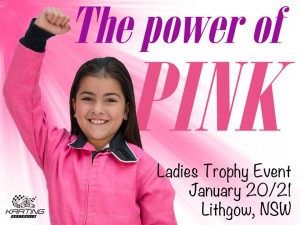 Our annual Ladies Trophy Event Sponsored by Atlantic Oils will take place at Lithgow City Raceway on January 20 and 21 (Friday and Saturday) 2017. With interstate interest again running high we expect a bumper entry for Australia's only Female only event. The KA approved Pink Plate will be up for grabs in Cadet 9 & 12, Junior KA4 Light and Heavy, Junior KA3, Senior KA4 Light and Heavy, Senior KA3 Light and Heavy, Tag Restricted Light and Heavy, Tag Light & Tag Heavy.
The best performance overall will win the Nicole Franks Memorial Trophy
Click here for Flyer 2017-2017-ladies-day-flyer
Click here for Sup Regs cdkc-supplementary-regulations-20-22-jan-2017
Click Here for Supporters shirt Order Form 2017-ladies-shirt-order-form You must order and pay for your shirt direct with DTO by January 9th 2017, it will be available at the track Friday January 20
Click here for 2017 Charity Princess Registration Form 2017-registration-form
Paul Feeney Group have sponsored Cadet and Junior KA4 classes for the Ladies Trophy. All cadets will be in the draw for 2 sets of Bridgestone Cadet Tyres (2 draws) and Junior KA4 entrants will be in the draw for a set of Bridgestone Tyres. we will also have a new Vortex Mini Rok engine in the Saturday night Charity Auction. Thanks PFG.