The Year in Review
2015 has been a challenge for CDKC and the sport in general.  This time last year we were all anxiously awaiting the introduction of the Whole of Sport Review.  What would this mean for the club, club racing and the sports success in Australia.  I am not sure if we are in a position to fully understand the impact after 12 months but I think that we are at least making headway and many have now made the switch to the new engines.
I think that the challenge for clubs will be to ensure they can keep meeting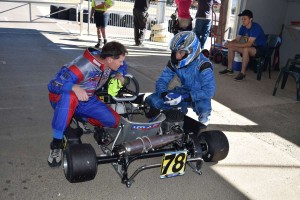 s innovative to compete with the State, National and Pro Tour Series.   These events are being well promoted and supported by the sector.
In 2016 it will be the aim of CDKC to rebuild class entries by offering family friendly environment for everyone to enjoy.  We are also looking to make capital improvements and are waiting KA's sign off for a loan through the Track Development Fund.  The committee will then be looking to resurface and make some extensions to the circuit.
Christmas Event
Everyone enjoyed the event today at Lithgow.  It has been a very busy and we had the opportunity to stop and thank many of our volunteers who work tirelessly to put on events every month.
2015 Presidents Award – Peter Toole
This years Presidents Awards was easy to select.  Peter Toole has only been with the sport for a short amount of time and a member of the committee and most recently Vice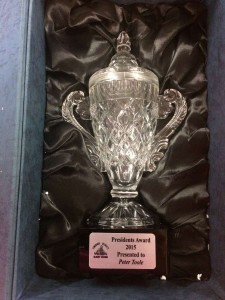 President.  Peter worked so hard over the past 12 months to assist the committee with the DA and erection of the outgrid, plus various other projects to improve the facilities and always offered invaluable advice and support .  He has a heart of gold and his dedication to his position and passion for helping others is very rare.  Peter and his family will be missed by CDKC but his contribution will be never forgotten.
2015 Club Champions
Congratulations to all the winners in the 2015 Club Championships.  Club Champions win FREE club race entry for 2016 and FREE breakfast and lunch.
Cadet Champion – Kent Fias-Ayon
Junior Champion – Zac Raddadtz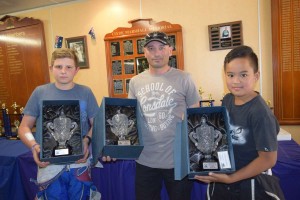 Senior Champion – Michael Micallef