The Metro Challenge is on again and this year is hosted by Combined Districts Kart Club at Lithgow City Raceway on November 17 & 18. Each of the 4 clubs (Combined, North Shore, Wollongong and Newcastle) will have 7 registered drivers in each Junior Class and 5 Registered Drivers in each senior class. Points will be awarded across all races with the being a point score for Juniors (inc Cadets), Seniors and an overall Metro champion club crowned.
The track will be open for practice Friday November 9, (Closed Saturday November 10, private booking endurance race ) open Sunday November 11, Friday November 16.
CDKC Supplementary Regulations November 2018
Drivers will be selected by each club based on, which is the drivers home club on CMS and each club will have a selection criteria.
CDKC selection criteria is based on Club championship position (and CMS listing CDKC as your home club), wildcard invites and then first entered.
Each Junior and Cadet class will have 5 Club Champion runners invited and 2 wildcards
Each Senior Class will have 3 Club Champion runners invited and 2 wildcards
Each class will also have 2 Wild Card members invited
Invited Drivers must enter by Wednesday November 7 to secure their position.
After November 7 the first CDKC eligible drivers to enter will be on the team
Please note the selections are based on what CMS lists as your "home club", if you want to race for CDKC and we are not listed as you home club or you wish to be on the team but are not listed please contact Dave Freeburn ([email protected])
Initial CDKC invites are listed below, if you can not fill your position or you think you should have one please contact Dave Freeburn.
Updated team list 05.11.18. Driver with green highlight have entered and secured their position in the team.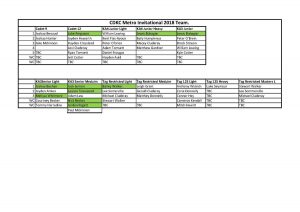 Proposed Metro Race Order
TAG Restricted Light
Cadet 12
KA4 Junior Heavy
KA3 Light
TAG Heavy
KA4 Junior Light
TAG Restricted Medium
TAG Restricted Masters
Cadet 9
KA3 Junior
KA3 Medium
TAG Light