Club Championship
Overall Club Champions in the 3 categories below  for 2017 win FREE  Race entry and FREE Breakfast & Lunch in 2018 for CDKC Club Championship Rounds.
Cadet 9/Cadet 12.
Juniors
Seniors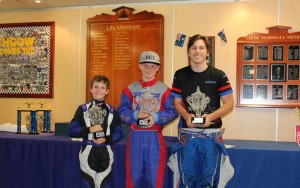 2016 Champions James Freeburn, Peter Obrien and Nick Becker
The 2017 Club Championship will be over 7 rounds, a drivers best 6 rounds will count. Classes eligible are.
Cadet 12
KA4 Junior Light
KA4 Junior Heavy
KA3 Junior
KA3 Senior Light
KA3 Senior Medium
TAG Restricted Light
TAG Light
To qualify, a class must have a minimum of 5 entries race at 4 rounds or more, a driver must qualify via a days volunteer work (official, working B or other approved duty)  for the club as per the rules listed below and have competed in 4 rounds.
Click on the link below to view the qualification requirements and conditions for the CDKC Club Championship.
CLUB CHAMP POINT SCORE rules 2017
Click on the link below to view the most recent CDKC Club Championship results.